ONLINE COURSE FOR THOSE WHO WANTs TO create a flowering crystal
3 video lessons
notes and support of the author

10% extra DISCOUNT

will be available if you will make a SWIFT transaction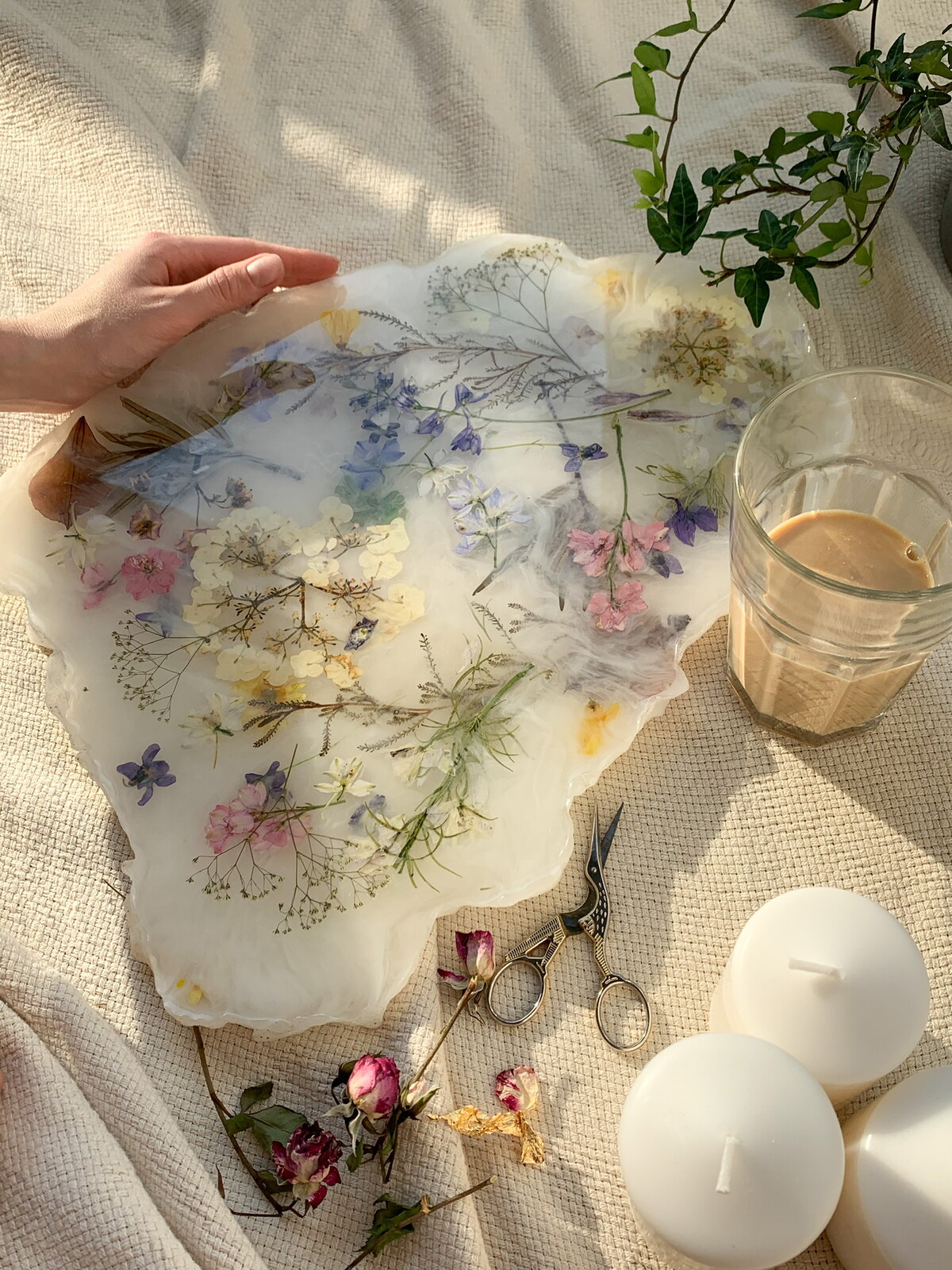 ABOUT THIS ONLINE COURSE
This course will be interesting for anyone who would like to learn how to create unique gorgeous objects ( coasters, trays, crystals) with real dry flowers to develop creative abilities and to enjoy the process along the way.
As a result, you will get:
— Downloadable class resources, including a printable shopping list, guides to resin art;
— 3 Streaming 1080 HD video lessons with anytime, anywhere access with a close-up instructions.
1 lesson «Preparation and filling of the first layer»
Familiarization and answers to the following questions:
-what materials are needed?
-what epoxy should you use for your crystals?
-how to calculate the required amount of resin?
-how to remove air bubbles?
-what dye to use?
-how to create clouds effect?
-which flowers to use?
2 lesson «Second transparent fill»
-when do you need to fill the second layer?
-how much resin is required?
-how to make it as transparent as possible?
-when do you need to get the product out of the mold?
-how to finish the edges?
-what tools are needed for this?
-how long does it take to grind?
-how to clean the finished product?
-what does the finished crystal look like?
1-PLASTIC DROP CLOTH

2-LATEX AND WORK GLOVES
3-RESPIRATOR
4-HAIR DRYER
5-WOODEN OR PLASTIC STICS ( for stirring )
6-PLASTIC CUPS
7-DISPOSABLE TOWELS
8-ISOPROPYL ALCOHOL
9-EPOXY RESIN FOR ART (medium viscosity)
10-kitchen scales
11-gas-burner
12-silicone mold
13-EPOXY RESIN DYI (white)
14-golden glass chips
15-dry flowers
16-Electric Engraver Drill
17-file for metal
18-polish for car scratches/for headlights (optional)

The training was developed for those who are not afraid of trying something brand-new!
Is the course suitable for beginners?
Yes, the course is suitable for any level of preparation!The abstracts are attached to each video lesson.

Is the course complicated?
The resin art is not an easy one, but once you get used to improvisation with flowers, you will be able to create anything.
We want you to expand the horizons of your vision about resin art.

Are the materials expensive, and where can I buy them?
Not at all! All materials can be purchased on Etsy/Amazon!
10% extra DISCOUNT

will be available if you will make a SWIFT transaction
If you still have any questions, please write to us by e-mail:
study@katemarchenko.com