ONLINE COURSE
FOR EVERYONE WHO WANTS TO MASTER EMBROIDERY
The first lesson we give you is free of charge, you will learn how to embroider eyes.

Artistic embroidery.
"Advanced" level .
Natalie Portman
---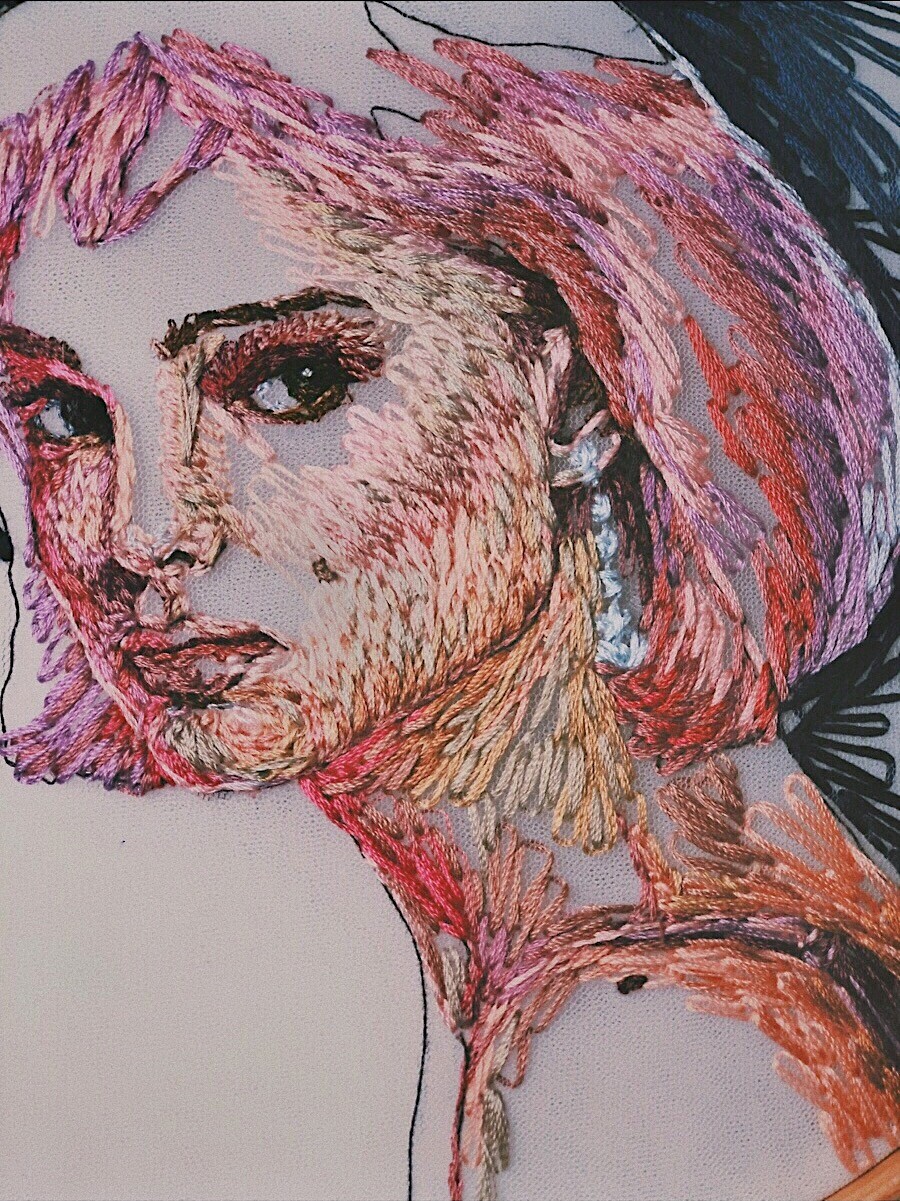 The course is focused on
the study of basics of choice of color palette
process of practical developing of your own style
brand-new techniques of artistic embroidery of different level (from the basic to more complex ones).
This course will be interesting for anyone who would like to learn how to create unique gorgeous patterns using modern stitches of embroidery on tulle.
Convenient online training
Сertification of graduates
14 Streaming HD video lessons with anytime, anywhere access with a close-up instruction.
Downloadable class resources, including a printable shopping list, guides to color and stitches.
Сertification of students.
The access to the course lasts for 6 months from the moment of activation.
If you have been

waiting for a long to start the creation of a unique gorgeous pattern, very different from anything existing before, then this course is definitely for you!
What You Need: Fabrics, Floss, Needles & Hoops
How to Bind an Embroidery Hoop
How to mount fabric in an embroidery hoop. How to fix your hoop
How to divide and thread your needle? Anchoring embroidery floss
Basic stitches technique. Get Started Stitching and Looped Stitches
Outlining shapes. Eyes and eyebrows
Shades. Ear, Hair and Body
Finishing the back of hooped embroidery
---
The training was developed for those who are not afraid of trying something brand-new!
How to embeoider eyes. High-speed video
This video is for demonstration only. The speed is 8 times faster. The the speed of original video lessons of the course is much slower.

Skreenshot from the original video lesson.
All videos are provided with subtitles
What You Need: Fabrics, Floss, Needles & Hoops
Wooden embroidery hoop 27-30 cm
Eurotulle 35×35 cm
Eurotulle tape 165x4,5 cm
Embroidery Pencil
Tapestry needles № 22
Needles Embroidery/Crewel Size 5-10
Needle threader
Scissors
Tailor scissors
DMC Thread
«UHU» glue for fabric
«2» G-clamps
Frequently Asqued Questions
How is training conducted?
Is the course complicated?
What I will get at the end of the course?
Is the course suitable for beginners?

Are the materials expensive, and where can I buy them?

If you still have any questions, please write to us by e-mail:
study@katemarchenko.com
If this course seems useful share it with your friends!